Eagle ford Accidents
Traffic Fatalities in Eagle Ford Shale Increase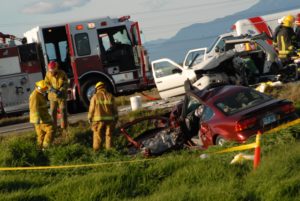 Eagle Ford Shale is an oil rich area in South and East Texas, stretching from the Eagle Ford community south of the Dallas-Fort Worth metropolis. The bulk of the affected counties are between San Antonio and Houston.
On Texas 239 southeast of Kennedy, five people have lost their lives in auto accidents since March of this year. Twelve people have been killed in motor vehicle accidents during the past several months in Karnes County.
LaSalle county has seen a 418% increase in fatal accidents and McMullen county experienced a surprising 1,050% increase.
Since March 1, five people have died on the stretch of FM 239 outside of Kenedy in Karnes County. Some locals now call it the "death trap."
March 1:

An early-morning collision with a big rig killed Tray Vickery, 19, who was headed to work in his pickup.

April 25:

Three retired teachers were killed when a semi slammed into their Toyota Camry. Carol and John Harris, 69 and 70, and Margaret Hensley, 60, were on their way home from Victoria.

June 5:

John Schaar II, an oil field worker from Victoria, was killed when his truck veered into oncoming traffic and collided with an 18-wheeler.
Source: Karnes County sheriff
San Antonio Express-News
Commercial Vehicles Involved in Fatal Accidents
According to Texas Department of Transportation statistics, fatal accidents involving commercial vehicles increased the most. The numbers grew from six in 2008 to 24 in 2011. The increase in deadly road accidents correlates to the rapid increase of commercial traffic in the region.
Corresponding to the economic boom from Eagle Shale drilling is an increase in heavy industrial and commercial vehicles on roads not designed for such traffic. This has worn down the roads and has negatively impacted driving conditions. County officials are struggling to raise the money for the new maintenance requirements.
Driver Fatigue Contributes to Fatal Accidents
Officials also blame several accidents on driver fatigue. Oil field workers often get behind the wheel on unfamiliar roads after working long shifts in all weather conditions. The combination of tired drivers and unfamiliar roads lead contributes to the number of accidents. According to the Centers for Disease Control, highway accidents were the leading cause of death among oil field workers nationally between 2003 and 2008.
Reducing the Number of Accidents
Texas Department of Transportation has started a campaign targeting Eagle Ford counties. More troopers will be actively enforcing road regulations to encourage safer driving.
County leaders are seeking to balance the economic benefits of Eagle Ford drilling and road safety.
Injured in an Accident?
If you have been injured in a commercial or private vehicle accident then contact attorneys at The Law Offices of J. Robert Davis, P.C. today. A fast and free case review will determine if you may be eligible to receive financial compensation for your injuries. Complete the Free Case Review form located on this page or call 800-529-5072 now. We look forward to working with you.